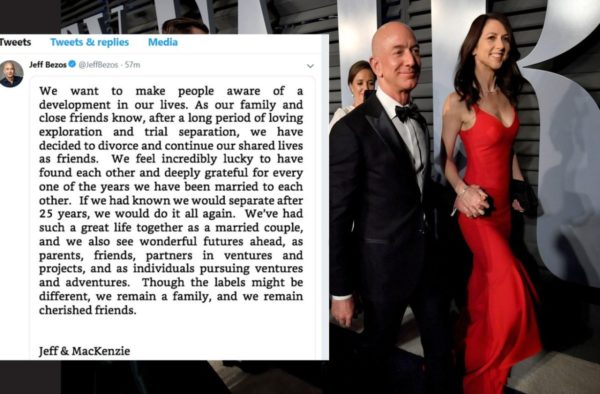 by
Monica Beffa
How a Postnup could've helped Bezos divide his $137 billion wealth
Jeff Bezos and his ex-wife, MacKenzie Bezos, did not have a Post-Nuptial agreement, known as 'Postnups' executed during their marriage. Bezos twitted that the couple separation was amicable, thus a Postnup could've helped in dividing their assets much easier, especially since the Bezos family owns several homes and luxurious chattels.
When Canadian heart throb Justin Bieber secretly married model Hailey Baldwin on September 2018, tabloids said Bieber didn't bother with a extravagant wedding or a Prenup to protect their millions. However, Bieber —worth about $265 million — and Baldwin —worth about $3 million — still have ways to protect their fortune from each other, if they choose to. While other celebrities, like David Arquette and Courteney Cox signed a Post-Nuptial agreement, you don't have to be celebrity to have one.
Many clients are approaching Beffa Law for Postnups agreements which are becoming more popular as couples are more concerned today about resolving their potential divorce issues and avoiding potentially large legal expenses.

What is a Postnup?
Spouses can enter into a Postnup, which is a marriage contract written and executed after marriage. Having a legally binding contract in place allows couples to keep their separation private and moving along quickly. Postnup are an effective way to document intentions for assets during the marriage as well as in the event of a future separation and are a safe way to protect couples from making decisions based on anger and resentment.
Is Postnup legal in Canada?
In Canada, Postnups are permitted. Spouses can enter into a marriage contract either before (Prenup) or after marriage (Postnup).
When I can enter into a Postnup?
When a spouse remarries and has children from previous marriage.
When the parents of a spouse are gifting cash, home, family business.
When couples enter in business ventures.
When there's a death in the family and one of the spouses is inheriting money.
When couples live apart in different countries.
When infidelity, alcohol and drug abuse, gambling or deceit occurs.
Can I enter into a Postnup before I separate?
If you just married recently, you can be flexible with a Postnup. You can enter into a Postnup even if you have thought about separation or you are having an affair, but you need to negotiate the Postnup in good faith.
What a Postnup cannot change?
You cannot waive all the support rights in the Postnup. Once you marry, you have legal rights and obligations regarding child and/or spousal support and Courts may not permit someone to waive these rights after marriage.
What a Postnup can address?
What property is held jointly or individually?
Who is responsible for paying off debts?
How the spouses spend or save incomes?
Does any spouse own a business?
What are the spouses' future priorities: to pay for a child's education or to purchase a cottage or to save for retirement?
How are monies divided in the family?
What happens if one spouse falls ill or becomes disabled?
What protection do you have in the event of your spouse's death? Do you have updated Will and estate planning?
How can a Postnup reduce stress and save marriages
More and more couples are executing Postnups. According with as survey of the American Academy of Matrimonial Lawyers, half of divorce lawyers cited an increase in postnuptial agreements in recent years. The top three items most commonly covered included: property division (90%); spousal support (73%); and retirement accounts (45%).
Often, couples consult me about a Postnup when their financial or emotional situation changes and they are on instable ground. Postnups can help couples innovatively enact and design an agreement that addresses all the matrimonial issues and move past major financial barriers, reducing emotional stress.
If the marriage ends, the Postnup becomes the basis for a Separation Agreement. This releases spouses from the emotional pressure of negotiating with their partners when things have turned bitter and saves high litigation fees.
Last, but not least, a lifestyle clause i.e. infidelity clause in your Postnup may deter your spouse from cheating and might save your marriage. Reportedly, Jessica Biel will get compensated at least $500,000 if Justin Timberlake cheats. Likewise, Catherine Zeta-Jones has a similar clause in her Prenup with Michael Douglas –although she is entitled to millions if Douglas cheats. Including no-cheating clause in the Postnup can be a means through which a couple can express their values and expectations about fidelity and set ground rules about how they would like to be treated during the marriage and which, ultimately, can save the couple's marriage.
Contact a Lawyer
Monica Beffa is a lawyer with Beffa Law, an Oakville law firm. She can be contacted at Monica@beffalaw.ca or (416) 856-7631.