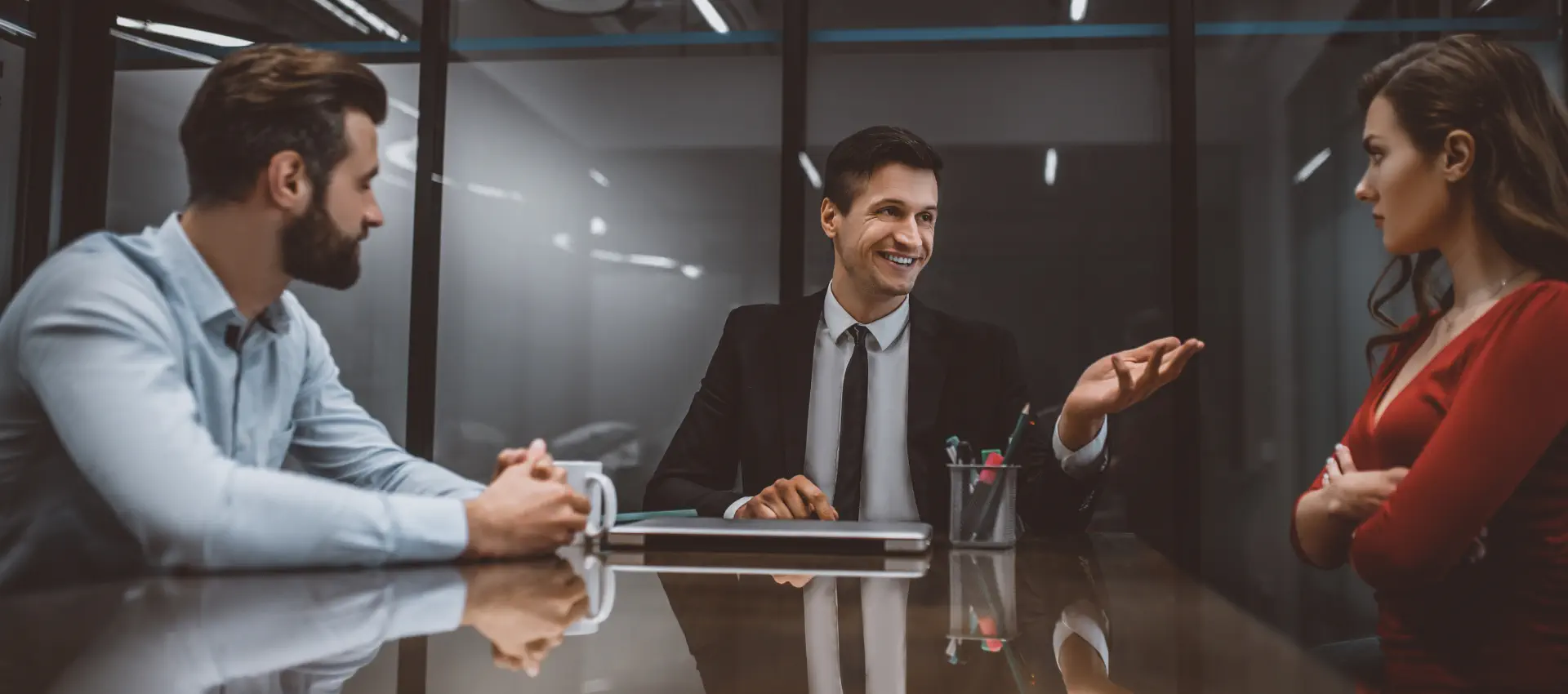 by
Monica Beffa
The Benefits of Separating Out of Court
No person enters a marriage with an expectation that it will end in divorce. Unfortunately, for about 40% of Ontario couples, that is exactly what happens. For those unlucky couples that are going through a divorce, it may be one of the most difficult experiences in their life. It is challenging for every party involved and is even more arduous when there are children, so if you find yourself in this situation it is important to consider the benefits of separating out of court.
Although the emotional impact of a marriage that has failed is unavoidable, some couples are able to accept that their relationship has ended and are willing to be cooperative and amicable. Other couples, on the other hand, may face a much rougher situation if their anger and resentment run high or if a conflict arises between them.
These two attitudes typically determine the type of divorce the couple will go through. Couples with a more cooperative outlook can benefit from an uncontested divorce by  initiating their separation through negotiation between their respective lawyers and skip the burdensome appearance in family court to determine their matrimonial matters. In contrast, couples who cannot come to an agreement through negotiation, even with the help of lawyers, end up in a contested divorce situation and will have to go to family court to settle the disputes in relation to their separation.
If you are considering getting a divorce, you should first understand the difference between them and implications of both approaches. This knowledge will allow you to prepare accordingly and ensure you are aware of what lies ahead.
What is Separation Out Of Court?
When spouses are separating, there are several matters that must be resolved prior to the finalization of their divorce. The following issues are often in dispute between the spouses:
Spousal support
Child support
Child custody
Parenting time
Division or sale of family property and assets
Possession of the matrimonial home
Costs
Negotiation
If the parties cannot agree on how to divide their assets, calculate support, or decide on child custody, the spouses can hire lawyers who will help them negotiate the matters until the parties are able to arrive at an agreement. Once this is done, the lawyers will include the agreed upon terms of the negotiation into a separation agreement.
Once the required time passes from the time of separation (discussed below), the parties can apply for the granting of a final divorce. In this case, the uncontested divorce will be governed by the separation agreement since it remains binding on the parties even after they are granted a Divorce Order and Certificate.
Litigation
If the spouses cannot arrive at an agreement through negotiation, the intervention of the court will be required. In this case, the disputes in question will be resolved by the judge at court. This will involve a trial where both parties need to present their positions and defend their claims.
Having a  prenuptial agreement  may help minimize the conflict when a couple chooses to divorce as most matters will already be resolved in the agreement.
Can Negotiation Turn Into Litigation?
If a couple started their separation process on amicable terms, but serious disagreements arose during the process, negotiation may no longer be appropriate. In this case, the disputes will be settled by a judge in a courtroom.
Benefits and Drawbacks of Uncontested Divorce
At the end of a marriage, couples typically choose whether they want to settle their affairs amicably or to fight in a long court battle. Sometimes spouses may not be able to agree on certain matters such as child custody, parenting time, child support, spousal support, property equalization, etc. If this is the case, you may be forced to face litigation. However, the benefits of separating out of court through negotiations with the help of lawyers significantly outweigh the costs of going to court to settle your disputes.
Here are some reasons why it is best for both you and your partner to settle outside of the courtroom with the help of a family law lawyer.
No Court Appearance
If you choose to settle through negotiation, you will not have to go to court before a judge to settle your divorce matter. The separation agreement that will result from the negotiations is a legal document that will bind both parties to the terms even after divorce. No extra steps are required apart from the application for the Divorce Order and Divorce Certificate.
Saves time
Negotiation is usually much faster process compared to trial. Firstly, court proceedings require many days of preparation. Secondly, it may take several months to have your court hearing date set, especially due to the back log after the pandemic. Additionally, court proceedings are often delayed which may result in them dragging on for several years. In Ontario, for example, one couple spent over four years and over $2 million in litigation fees to settle their divorce (Blatherwick v. Blatherwich).
In contrast, the timing for negotiations will depend on your cooperation with the opposing spouse and lawyer. Depending on your situation, the process can be completed within a matter of a few weeks.
Saves Costs
Divorces that involve litigation are expensive. People often underestimate the costs of settling your divorce in court. Not only will you have to pay a lawyer for the preparation of the documents for the court proceedings and the divorce application, but your lawyer will also have to spend many hours representing you at trial. These hours are also billable.
Settling issues cooperatively with your spouse by negotiating a settlement agreement can save both parties a substantial amount of money.
Mental Health
Going through a divorce may be an extremely stressful experience that can take a harsh toll on your health. A longer, more complicated, and more expensive divorce will only worsen your well-being. On top of this, there is an additional level of stress that is added to the uncertainty about the result if you go to trial.
Bargaining with your spouse with the help of a family lawyer on all divorce-related matters to create a separation agreement will help you move on with your life faster without making an already stressful situation worse.
Control Over Your Outcome
Issues surrounding divorces, such as support payments, parenting arrangements, and property division, can all be negotiated with the help of a lawyer through negotiation instead of court litigation. Having a separation agreement that outlines all the matters you need to settle will be helpful. When you do so, the separation agreement outlines the matters in the way you and your spouse choose.
If you have a judge decide these matters for you at trial instead, you will no longer have the ability to reach an agreement that works best in your situation. While judges attempt to understand the details of your situation, they might not always know exactly what is best for your own family. Thus, it is better to cooperate with your spouse and settle your conflicts together while you have the chance.
Distressing the Children
Although divorce is an exceptionally difficult time for spouses, the children of divorce are also negatively impacted. Litigation creates a hostile environment between the parents, and children are often caught in the midst of all the conflict.
If both parties are cooperative and are able to negotiate, it can result in the maintenance of a good relationship between the parents which will make it easier for the children to get accustomed to their new situation. To make the process even easier, a lawyer can draft a separation agreement that covers all the details regarding your children such as custody, child-related expenses, parenting time, etc.
Thus, it is best to remain amicable and cooperative with each other through the separation process to ensure your children are not negatively affected by the significant change.
Requirements for Uncontested Divorce in Ontario
In order to start the divorce process in Ontario, some conditions must be first met. To begin the divorce application in court, you must first ensure:
You and your spouse are legally married;
There is no possibility of reconciliation;
You and/or your spouse have been "ordinarily resident in Ontario for at least one year"; and
You establish one of the three grounds for divorce, including

You and your spouse have been living separate and apart for at least one year;
You or your partner committed adultery;
You or your partner performed an act of cruelty, whether physical or mental abuse, to the other spouse.
Separation For One Year
The most common ground for divorce is separation for at least one year. You must prove that you have lived separately from a specific date of separation. For many couples, the date of separation is the date one of the spouses moved out into a separate residence.
However, some couples may find it difficult or expensive to physically live apart. Nevertheless, courts have established that this is not problematic and the couple may still file for divorce even if they live separate and apart, but under the same roof (Pennington v. Pennington). If this is your situation, you must establish that the marriage-like quality of your relationship is nonexistent. Proof of such an arrangement may be established by the date of separation in a separation agreement to avoid any ambiguity. You may also want to sleep in different bedrooms, stop doing chores for each other, and stop attending events as a couple. Overall, you should treat each other as roommates.
You are also allowed to reconcile within this one-year period. If you and your spouse begin living together for a period of more than 90 days, your separation will be deemed to be over. If you choose to ultimately separate again, the countdown for the one-year period will have to start all over again.
To see what other criteria the court looks at to determine whether a spousal relationship exists and when the separation occurred, check the factors established in Molodowich v Penttinen:
Factors that help determine whether you have a spousal relationship:
Shelter

Did the parties live under the same roof?

What were the sleeping arrangements?

Did anyone else occupy or share the available accommodation?

Sexual and personal behaviour

Did the parties have sexual relations? If not, why not?

Did they maintain an attitude of fidelity to each other?

What were their feelings toward each other?

Did they communicate on a personal level?

Did they eat their meals together?

What, if anything, did they do to assist each other with problems or during illness?

Did they buy gifts for each other on special occasions?

Services

What was the conduct and habit of the parties in relation to:

Preparation of meals,

Washing and mending clothes,

Shopping,

Household maintenance 

Any other domestic services?

Social

Did they participate together or separately in neighbourhood and community activities?

What was the relationship and conduct of each of them towards members of their respective families and how did such families behave towards the parties?

Societal

What was the attitude and conduct of the community towards each of them and as a couple?

Financial support

What were the financial arrangements between the parties regarding the provision of or contribution towards the necessaries of life (food, clothing, shelter, recreation, etc.)?

What were the arrangements concerning the acquisition and ownership of property?

Was there any special financial arrangement between them which both agreed would be determinant of their overall relationship?

Children

What was the attitude and conduct of the parties concerning children?
Adultery
If you file for divorce on the ground of either adultery or cruelty, you will be able to obtain your divorce much sooner than if you were to wait for a one-year period of separation to pass. However, these are more challenging grounds to prove as both require substantive amounts of evidence.
The easiest way to obtain sufficient evidence for adultery is for your spouse to admit to having committed it before a clerk in a government office through a sworn affidavit. You should note that while adultery is considered morally wrong, it is not illegal. It is simply a ground for divorce and the spouse who committed adultery cannot be criminally charged.
If the spouse is not willing to admit they committed adultery, you are going to have to prove your allegations. This may be done by obtaining witness testimonies.
For your spouse's actions to qualify as adultery, you must also prove the following:
The adultery occurred while you were living together as a couple or while you were separated.
You did not condone (If you knew about the adultery and continued to live as a couple for more than three months without acting on the allegations, you may not use this ground for divorce as the law deems you to have accepted the adultery).
There was no collusion on your part in relation to the adultery. (If you and your spouse lie to the court about adultery to speed up the divorce process, you will be barred from divorce).
You cannot tolerate living with your spouse as a result of their actions.
Cruelty
If you choose to obtain a divorce based on the ground of cruelty, you must first prove your allegations. Cruelty must be of a "grave and weighty nature as to render cohabitation intolerable" (I.A. v. S.D.).
Unlike adultery, the actions of cruelty are illegal and may lead to criminal charges so it is unlikely that the accused spouse will be willing to admit to having abused their partner. Thus, proving such allegations may result in extensive litigation which may last longer than the one-year waiting period of separation discussed previously.
Religious Divorce
You should also be aware that some marriages may not truly be terminated unless you additionally undergo a religious divorce. This may also be a requirement to remarry in some cultures.
However, simply obtaining a religious divorce is not sufficient in Canadian law and you will not be considered legally divorced. If you had a religious marriage, you should ensure that you are divorced by way of your religion and by way of the law in your province to be sure that you are truly divorced.
How Long Does an Uncontested Divorce Take in Ontario?
In Ontario, despite the one-year separation period, you can typically initiate the divorce process by filing the appropriate application forms with the courts six months after your date of separation. However, the date of the hearing for the divorce shall be no earlier than after the one-year period is complete.
Generally, it takes at least a few weeks to a few months for you and your lawyer to prepare all necessary documents for the divorce application and serve the other party. Then, the court typically takes four to eight weeks to process the documents and grant the Divorce Certificate.
Of course, if the parties are uncooperative, the length of time to finalize all matters may take several years.
How much does an Uncontested Divorce Cost in Ontario?
The costs to get a divorce will vary dramatically based on the type of divorce you get and how long the process takes. The basic cost to file a divorce application with the court is $632. However, additional lawyer fees will depend on your situation. An divorce that does not end up being settled at trial will usually be much cheaper than one that involves much litigation which may reach the costs of tens of thousands of dollars.
Can I do my own Uncontested Divorce?
At the end of the day, when you are separating from your spouse, there are many legal and emotional challenges that you will be forced to face. The guidance of an experienced lawyer is necessary as it will help you through the legalities of the divorce process as well as help minimize the negative aspects of the end of a marriage.
Beffa Law is a family law firm serving Oakville, Burlington, Milton, Mississauga, and other areas west of the GTA. We offer assistance in separation, divorce, and mediation along with other practice areas. If you have any questions about family law, give us a call at 647-812-8462 , email us at info@beffalaw.ca or set up an appointment.